普鲁克游轮将奢侈品的定义推向了新的高度。普鲁克游轮是曼谷最高的河流游轮—高度为8米,船长为27米。我们豪华的私人游艇租赁服务和私人晚餐晚宴巡游服务为客人提供了独特的视角来欣赏世界著名的曼谷城市的全景风光。
曼谷的普鲁克豪华游轮整船几乎由泰国当地最昂贵的柚木制成,并以其优雅的木纹而备受赞誉,其设计旨在彰显经典而永恒的泰国美学,展示其精髓。曼谷的普鲁克豪华游轮提供私人豪华游轮租赁和私人的内河晚餐游轮套餐,让您体验一生一次无与伦比的邮轮巡游服务,为您在曼谷的旅途提供了便利。
Champagne Bar
First things first: your journey begins at the horseshoe-shaped, marble-topped Champagne bar, stocked exclusively by Piper-Heidsieck. As you sip your drink, make your way across the first floor, which opens up into a luxurious lounge room — air-conditioned, of course — with wall-to-wall glass windows for stunning panoramic views.
Dining Room
Drink in hand, head upstairs to the second-floor dining area, outfitted with both outdoor and air-conditioned spaces for an unforgettable fine dining experience. With over ten tables and an additional lounge area at the cruise bow, it's the perfect place to sit back, relax, and soak in the last of the evening sun.
Rooftop Garden
Finally, explore the top floor's unique charms. With a rooftop garden and plenty of space for a live band, survey the city from the highest point on the Chao Phraya.
Descriptions
Name : Pruek Cruise
Yacht Type : Motor Yacht
Materials
Hull : Teak Wood
Engines
Engines : 2 x Volvo Penta 450 HP
Generators : 2 x Yanmar 160 HP (40 KW)
Sizing
Length Overall : 26.75 M
Beam : 5.3 M
Max Draft : 2.68 M
Gross Tonnage : 112
Building
Year of Build : 2019
Performances
18 Knots Cruising Speed : 15 Knots Range (nm) : 5000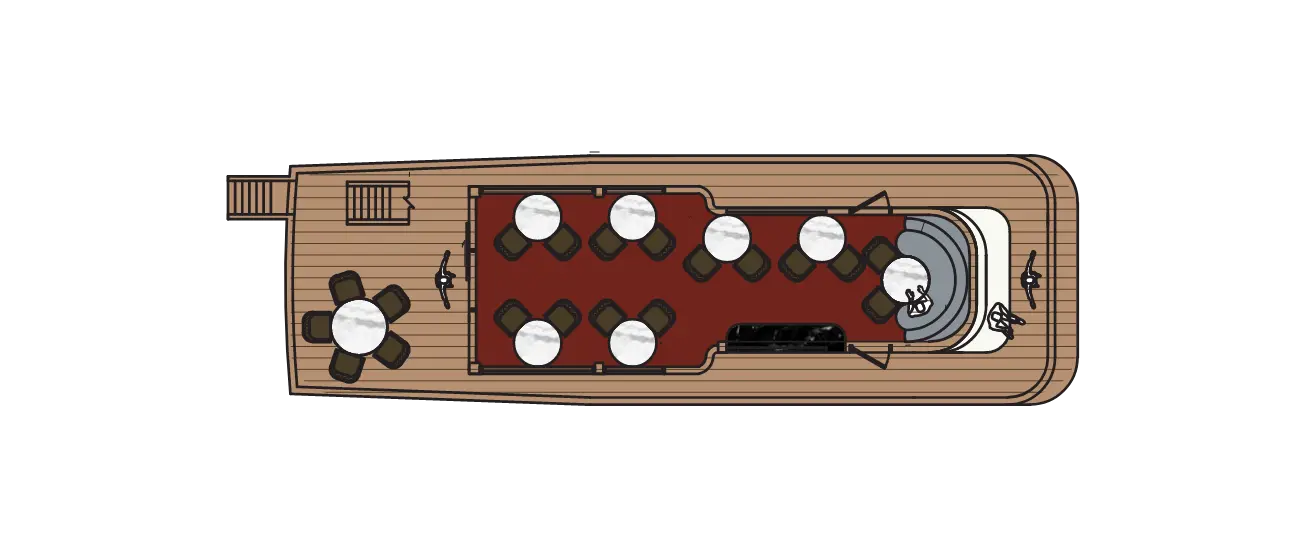 We'd love to hear from you.
Phone: (+66) 88-080-1800
Email: info@pruekcruise.com
DO YOU HAVE A DREAM EVENT IN MIND ?
We're committed to bringing your vision to life aboard Pruek Cruise.
For more information and assistance,
please fill in our contact form.
[contact-form-7 404 "Not Found"]